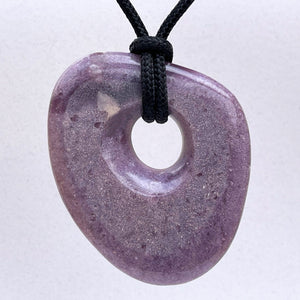 PotteryByHelene
Lepidolite Carving Pendant
* Custom Carved Lepidolite Pendant - 2 1/2" x 2"
* 26" - 22" Adjustable slip knot
* 4mm cording

A simple design that is all about the Lepidolite carving.

Lepidolite as a mineral lacks the hardness and tenacity to be a good gem material. However, it is sometimes impregnated with quartz, and that gives it durability. Lepidolite impregnated with quartz makes an attractive pink to purple gemstone, but what makes these stones even more desirable are the bright flashes that occur when the mica cleavage surfaces reflect light. This piece has a rich purple color with lots of mica flash!!
---
Share this Product.................(Note : This feature is a bit buggy when you select Share to Facebook. Known bug. It will zoom the image. Please share anyway as it links back to this product.)
---
More from this collection